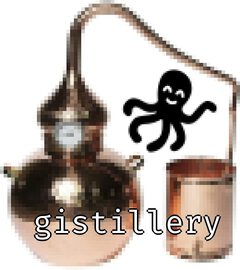 gistillery
The goal of gistillery is to make it outrageously simple to take local code, send it to a Github gist, get a beautiful image from Carbon.now.sh, and make it ready to share!
Other packages that operate in the same space:
The difference in gistillery from the above packages is the intention to have both a Github Gist and a screenshot. gistr allows for uploading Gists but no screenshots, gistfo takes an entire file/text selection and uploads to gist and then to Carbon, but doesn't take programmatic screenshots. carbonate/carbonace take screenshots via Carbon/Ace but don't have a Gist component.
When sharing screenshots of code I believe it is vitally important to include a copy-pasteable/screen reader friendly option, thus gistillery requires a Gist to be created or an existing Gist to be used for taking screenshots. You can then include a link to the Gist wherever the screenshot goes, whether Twitter, LinkedIn, a personal website, or some other location. The other packages are still awesome - this is just a slightly different approach.
Installation
You can install the development version of gistillery from GitHub with:



# install.packages("remotes")




remotes

::

install_github

(

"jthomasmock/gistillery"

)
Core Workflow
There are three core functions, providing three steps in the process. Take code and upload to a Gist, take a screenshot of it, and then add a image url to the Gist. Importantly, all the steps are not required to be completed via this workflow. You can take existing Gists and use components of these functions rather than having to stick to the end-to-end workflow.
Please note that for Github Authentication which is required to affect your Gists, you'll need to reference the gistr docs
Generate a personal access token with the gist scope selected, and set it as the GITHUB_PAT environment variable per session using Sys.setenv or across sessions by adding it to your .Renviron file or similar. See https://help.github.com/articles/creating-an-access-token-for-command-line-use for help